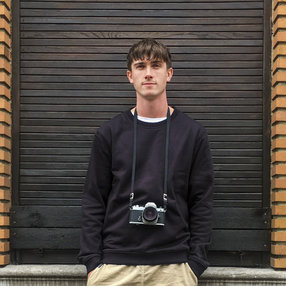 Great Britain, London
Born in:1995
Assistant since:2015
Driving licence:Car
Personal car:personal car available

Passport:yes
Languages:English
Photo Assistant, Digital Tech
Joseph Thompson
People, Portrait, Architecture, Location Scout, Fashion, Beauty, Prod. Assistant, Stillife, Food, Landscape, International Exp.
Know How:
I'm an award winning travel, landscape and documentary photographer based in London. As well as this I am also a self shooting film director. In 2017 I was made Compare The Market's Travel Advisor and was sent around the world for 7 months to document the places and people I visited using still and moving image.

I have a high knowledge with Canon cameras, owning a 5D mkIV & mkIII myself. I work well with Nikon too. I am trained with medium format cameras, Phase One and Hasselblad. I work on Capture One, being a Phase One Certified Professional, Lightroom and Photoshop. I also have an extensive knowledge of cinema cameras ranging from Canon, Sony, Arri
and Red. I'm also a licensed drone pilot with a DJI Inspire 2.

I have a high level of production experience as well. Having arranged large scale shoots and projects for clients and for personal assignments. I've worked aboard many times having photography and film projects all around the world.

Currently I do a lot more video work than photography. For the past 3 years I have been working full time for a video production company called TBD Media. We create high end short documentaries around the world. I direct, DOP and produce the films for TBD. Some of my clients are Toyota, Huawei, Hilton, American Express...

I own a RED Dragon DSMC2 for my freelance film work.
References as assistant / Career

I graduated from Ravensbourne in London 2017 studying Digital Photography with a 2:1.

Compare The Market Travel Advisor
August 2017 - March 2018

In the summer of 2017 I applied for a job with Compare The Market to send a graduate around the world and become their first Travel Advisor. The role would be to capture images and video content that would go along side a blog for each country, written by myself. This would be shown on Compare The Markets website for their new travel insurance branch. There were a number of stages for the thousands of applicants to go through so they could narrow down the winner; in the end being myself. The production side of the job was a large part, which took months of planning. I organised a 7 month trip visiting 10 countries through parts of Europe, Asia, North and South America. All of the travel, accommodation and activities on the trip were researched and planned by myself, using the budget that was given to me by Compare The Market. It was a very successful trip generating thousands of images, hours of footage and pages of blog content. Before the trip I gained sponsorship with 7 companies, ranging from photography equipment and travel accessories. In return I would give them social media content featuring their products. This project allowed me to really explore my photography and film skills that I have a acquired over the years and put new techniques to test. As well as this I have gained a great knowledge of how to plan and execute a large worldwide trip through some challenging countries.

Australia Project
January 2017

For my final major project at university I planned a trip to Australia to capture the east coast's landscapes and people for a book I was creating. Part of the project was a feature for Carve Magazine, which is the UK's largest surf magazine. I setup a shoot with ex British surf champion, Stuart Campbell, who now lives in Byron Bay. I arranged for me and a film production team called Slog Films to fly out and film a documentary on his early and current life. I also planned a 1 month road trip up the coast with Slog Films, who were filming content for my travel film. I found the coasts best features for us to explore, taking us to many local towns and national parks. I had set up shoots with a number of people up the coast who I thought would be a great asset to the book and travel film. This was a challenge in itself trying plan the shoots to coincide with the road trip, without jeopardising valuable time. The trip was also sponsored by Phase One, who provided me with their latest medium format camera system and a number of lenses. This was a great addition to the project that allowed me to print some of the photos for an exhibition in large scale, some being over 2m wide.

RMG Commission
October 2016

Just after the summer of 2016 I was commissioned by RMG (Residential Managing Group), who are one of the largest property management companies in the UK. They wanted me to photograph their most prestigious properties around London, adding up to around 45 different residential buildings. The images were to show off the grand architecture and beautiful interiors of the properties they managed; which will then be used for their new website. At the end of the project they also picked their favourite images to be printed and framed for their office in London. I had to work closely with The Print Space to meet RMG's needs for the large number of prints. Under instruction by the London Operations Directer of RMG, the project was in my control to capture the images I thought necessary for the project. This meant capturing a number of artistic shots that convey the style of architecture and interior. I had to organise meetings with each of the property managers to get full access to each of the properties. I had to plan what day and time to shoot each property for the best lighting.

Internship with Timur Celikdag
July 2015 - January 2016

During my second year of university I applied for an internship with award winning commercial portrait and fashion photographer Timur Celikdag. I was offered the 6 month internship, working alongside Timur in his production office. During my time there I worked closely with him on the production for his photoshoots working for clients such as Alexander McQueen. My role required me to find stylists and makeup artists for shoots, organise and book lighting equipment, image research for mood boards, organising castings for models; the list goes on. I also spent a lot of time working with his agency, having frequent meetings with them regarding his portfolio and future work. This internship helped set me up for my future production work, learning the importance of good planning to make project easier when in motion.

Leica Workshop
June 2015

Leica were offering a 1 day workshop for 6 photography students in London. To apply I had to submit a number of images along with a statement and they would pick the winning 6; which I was chosen for. The workshop was run by London based photographer Sophie Ebrard at the Leica store in Central London. She started with a lecture on her work, personal and commissioned. The Leica team then introduced us to their Leica M camera and gave each of us one for the day to shoot around London. Our assignment for the day was to photograph people around London, to tell a story at the same time. This was a great chance to use a camera perfect for this genre of photography. This workshop taught me more about the photography industry and how to develop my photography.

Digital Assistant
2014-Current

I've been working as a digi-tech assistant for many years now on various photoshoots, including the studio and lighting setup. Working with a variety photographers and clients has allowed me to develop skills that cater for each of their needs. Often working closely with the client before the shoot to discuss studio setup and lighting; and during when creating edits for the client. I'm often having to troubleshoot technical problems with software, camera and lighting, which is always handled well under pressure.
Portfolio