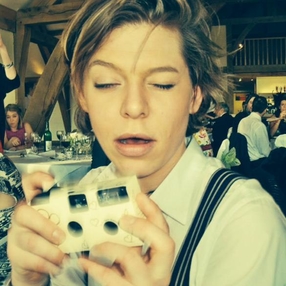 Great Britain, London
Born in:1986
Assistant since:2012
Driving licence:Car
Personal car:personal car available

Passport:yes
Languages:English, French, German
Telephone: 00447840344322
Photo Assistant, Digital Tech
Nicki
People, Portrait, Architecture, Location Scout, Fashion, Beauty, Reportage, Prod. Assistant, Landscape, International Exp.
Know How:
Familiarity with diverse camera and light systems including Canon, Nikon, Mamiya, Linhof and PhaseOne camera systems, and experience with Elinchrom, Bowens, Hedler and Canon Speedlite systems. Advanced retouching and compositing skills including Photoshop CS6 and CC, Capture One, Adobe Camera Raw, and basic familiarity with InDesign. Proficient in Windows operating systems and Mac OS X
Including Outlook, Word, Excel, PowerPoint.

On a personal level, I bring a lot of energy and enthusiasm and really enjoy the experience of being present and supporting the team for a great
end result. I pride myself on being highly motivated, reliable and trustworthy and treating people, equipment and my surroundings with care and respect at all times. I'm practical, hands-on with a 100% 'can do' attitude, and have the ability to remain calm under pressure. I don't shy away from anything, am willing to work really hard, and am a fast learner who only needs to be shown something once to remember. Accordingly, I am confident I can be a real asset to your studio.
References as assistant / Career

I am a freelance photographer with four years of photography assistant/studio manager experience, who is now specifically seeking further practice working alongside passionate fashion and lifestyle advertising photographers.

I originally trained in photography working two years full time at the studio of photographer and artist Marcus Lyon at The Glassworks in London, where I gained a solid set of skills for using a range of equipment to achieve different lighting and effects in the studio and on location with a focus on portrait and reportage photography. I have assisted with all aspects of planning, organising and executing advertising campaign shoots for high profile clients as diverse as Virgin Atlantic, International Hotel Group, G4S, GlaxoSmithKline, and Queen Elizabeth Olympic Park. These have all been informative to my development as a photographer and I am now keen to expand on those experiences.

I have an undergard in Philosophy & History of Art and a Master's in Sociology.
Tara Moore, Photo Assistant, more than 1 year
Marcus Lyon, Photo Assistant, more than 1 year
Klaus Thymann, Photo Assistant, 1-5 jobs
Romain Sellier, Photo Assistant, 1-5 jobs
J C Candanedo, Photo Assistant, 1-5 jobs

Portfolio