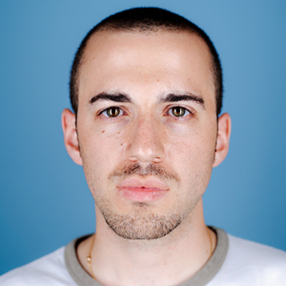 France, Paris
Born in:1983
Assistant since:2010
Driving licence:Car
Personal car:no personal car
Passport:yes
Languages:English, French, Spanish
Telephone: +33 6 42 27 47 85
Photo Assistant, Digital Tech
Jean-Romain
People, Portrait, Architecture, Location Scout, Fashion, Beauty, Reportage, Prod. Assistant, Stillife, Food, Landscape, International Exp.
Know How:
Cameras: Canon, Nikon, Phase One, Sinar, Hasselblad, Leaf, Toyo, Mamiya

Software and retouching: Capture One Pro, Photoshop, Lightroom, Phocus, Autopano Pro, Focus-stacking

Lighting: Profoto, Broncolor, Briese, Elinchrom, Balcar, Arri, K5600, Kino-flo, Desisti, Chimera, SL1, Mole-Richardson

Grip & accessories: Gitzo, Manfrotto, Matthews, Keylite, Avenger,
Gitzo, Kenko, Minolta, Sekonic

Shootings: studio, indoor, outdoor

Video: I am also a cinematographer and I'm used to light huge and sophisticated cinema sets with continuous lighting.

Production: middleman to book studios, models, equipment, locations and get shooting/filming permissions

ARRI Lighting Ambassador since 2018.
References as assistant / Career

FREELANCE
Freelance-photographer for the press and industry since 2011.

ARRI France
Lighting Ambassador since 2018

ÉCOLE DU LOUVRE
Art history courses

ÉCOLE NORMALE SUPÉRIEURE D'ARLES
Portrait workshop at the Rencontres Internationales d'Arles

ÉCOLE NORMALE SUPÉRIEURE DES ARTS DÉCORATIFS
Drawing lessons

STUDIO ROUCHON
Photographers' and production assistant

JOANNA CARTER
Viewfinder Workshop (4x5")

ÉDOUARD FRANCQUEVILLE
Wet-plate (Collodion) Workshop with Édouard Francqueville

CENTRE JEAN VERDIER
Photography master : digital, film-based, photography history, art lessons
John Russo, Photo Assistant, 1-5 jobs
Patrick Swirc, Photo Assistant, 1-5 jobs
Marcel Christ, Photo Intern, 1-5 jobs
Fabien Montique, Photo Assistant, more than 1 year
Nick Hudson, Photo Assistant, 0-6 months
Ari Rossner, Photo Assistant, more than 1 year
René & Radka, Photo Intern, 1-5 jobs
Andreas Ortner, Digital Photo Tech, 1-5 jobs
Juliet Taylor, Employed Photo Assistant, 1-5 jobs
Viki Forshee, Photo Intern, 1-5 jobs
Anthony Meyer, Photo Assistant, 1-5 jobs
John Lander, Photo Intern, 1-5 jobs
Le Studio Rouchon, Employed Photo Assistant, 0-6 months

Portfolio