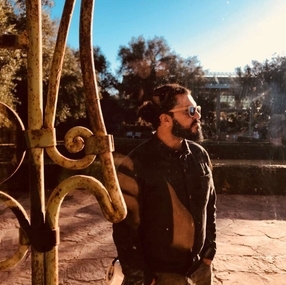 Morocco
Born in:1990
Assistant since:2016
Driving licence:Car
Personal car:personal car available

Passport:yes
Languages:English, French
Photo Assistant, Digital Tech
ESSAFI Ayoub
People, Portrait, Architecture, Location Scout, Fashion, Beauty, Stillife, Food, Landscape
Know How:
Hasselblad, Nikon, Canon, Mamiya, Pentax, Zenza Bronica, Fuji, Contax, Phase One, Sony, Black Magic...

Broncolor,
Arri, profoto, Breise lights...

Capture one, final cut, adobe family, Davincci resolve, choronoSync, color...


References as assistant / Career

Bachelor degree in science and Computer Engineering.
Master degree in Business Intelligence.

Been passionate about filmmaking and photography nevertheless studying and mastering in a different field, it took me a lot of energy to keep up and gain experience through the years.

ps: i left my studies to continue on my passion.
Lahcen Mellal, Digital Photo Tech, more than 5 jobs
PETER LINDBERGH, Photo Assistant, 1-5 jobs
Gilles Bensimon, Photo Assistant, 1-5 jobs
Mario Sorentti, Photo Assistant, 1-5 jobs
Emma Tempest, Photo Assistant, 1-5 jobs
Lachlan Bailey, Photo Assistant, 1-5 jobs
Charles Freger, Photo Assistant, 1-5 jobs
Nathaniel Goldberg, Photo Assistant, 1-5 jobs
Bridget Fleming, Photo Assistant, 1-5 jobs
George Boo, Photo Assistant, 1-5 jobs
Vivian Sanssen, Photo Assistant, 1-5 jobs
Simon Eeles, Photo Assistant, 1-5 jobs
Scott Trindle, Photo Assistant, 1-5 jobs
Marcel Gonzalez-Ortiz, Photo Assistant, 1-5 jobs
Paul Jung, Photo Assistant, 1-5 jobs
Alvaro Beamud Cortes, Photo Assistant, 1-5 jobs
François Halard, Photo Assistant, 1-5 jobs
Sophie Van Der Perre, Photo Assistant, 1-5 jobs
Frida Marklund, Photo Assistant, 1-5 jobs
Azim Haydaran, Photo Assistant, 1-5 jobs
David Cohen De Lara, Photo Assistant, 1-5 jobs
Michelangelo Di Battista, Photo Assistant, 1-5 jobs
Carin Backoff, Digital Photo Tech, 1-5 jobs
Kenza Le Bas, Digital Photo Tech, 1-5 jobs
Yoann Siloine, Digital Photo Tech, 1-5 jobs
Alina Asmus, Digital Photo Tech, 1-5 jobs
Jayden Fa, Digital Photo Tech, 1-5 jobs
Nam Simonis, Photo Assistant, 1-5 jobs
Sergi Pons, Photo Assistant, 1-5 jobs
Alistair Taylor Young, Photo Assistant, 1-5 jobs
Lina Tesch, Photo Assistant, 1-5 jobs
Taea Thale, Photo Assistant, 1-5 jobs
Thurstan Redding, Photo Assistant, 1-5 jobs
Jon Gorrigan, Photo Assistant, 1-5 jobs
John Owen, Photo Assistant, 1-5 jobs
Hasse Nielsen, Photo Assistant, 1-5 jobs
Edouard Plongeon, Photo Assistant, 1-5 jobs
Ward Ivan Rafik, Photo Assistant, 1-5 jobs
Simon Davidson, Photo Assistant, 1-5 jobs
Simon James Lee, Photo Assistant, 1-5 jobs
Dan Martensen, Photo Assistant, 1-5 jobs
Luis Monteiro, Photo Assistant, 1-5 jobs
Vinicio Prior, Photo Assistant, 1-5 jobs
Heimo Reumüller, Photo Assistant, 1-5 jobs
Daniel Riera, Photo Assistant, 1-5 jobs
Markus Pritzi, Photo Assistant, 1-5 jobs
Sean Gleason, Photo Assistant, 1-5 jobs
David Roemer, Photo Assistant, 1-5 jobs
Richard Ramos, Photo Assistant, 1-5 jobs
Emily Delphine, Photo Assistant, 1-5 jobs
Sam Hendel, Photo Assistant, 1-5 jobs
Philip Gay, Photo Assistant, 1-5 jobs
Gian Andrea Di Stefano, Photo Assistant, 1-5 jobs

Portfolio