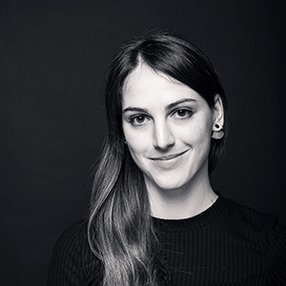 Germany, Stuttgart
Born in:1990
Assistant since:2016
Driving licence:Car
Personal car:personal car available

Passport:yes
Languages:English, Italian, German
Telephone: +4917667399972
Photo Assistant, Digital Tech
Chiara Bellamoli
People, Portrait, Architecture, Fashion, Beauty, Reportage, Stillife, Food, International Exp.
Know How:
Kamerasysteme:
Nikon, Canon, Hasselblad, PhaseOne.
Erfahrung auch mit analogen Kameras (35mm, Mittel- und Großformat)

Lichtsystemen:
Broncolor, Profoto , Elinchrom, Bowens

Software:
Lightroom, CaptureOne, Photoshop, Indesign, Bridge, Muse
Mac und PC
Apps für effiziente Instagram-Planung

Über mich: flexibel, wach und engagiert.
Gute laune
und Sinn für Humor!

Ich wohne in Karlsruhe und ich bin ohne Probleme in Stuttgart und Frankfurt verfugbär. (sowie im übrigen Deutschland und im Ausland für großere Jobs)

Deutsch auf Niveau B2/C1 gesprochen.

Sehr fließendes Englisch.


References as assistant / Career

2016 - 2017: Graduate Diploma Photography, University of the Arts London (UAL)
Abschlussnote: Distinction

Seit 2016 Fotoassistentin in Studio und Location in Italien, England und Deutschland:

- Florian Böhm, 1-5 Jobs
- Jean-Claude Winkler, 1-5 Jobs
- Johannes Vogt, 1-5 Jobs
- Matthias Schmiedel, 1-5 Jobs
- Michael Dannenmann, 1-5 Jobs
- David Knipping, 1-5 Jobs
- Mike Abmaier,
1-5 Jobs
- Evgenyi Kazannik, Green Lens Studio, feste Assistentin, 6 Monate
- James Brittain, 1-5 Jobs
- Oliver Haupt, 1-5 Jobs
- Ian Macaulay, 1-5 Jobs
- Adrian Mott, 1-5 Jobs
- Marco Monari, Studio Verona Fotografia, feste Assistentin, 3 Monate


Seit 2017 freie Fotografin.
Ab Oktober 2018 bis Dezember 2020 Fotoretuscherin (als freie Mitarbeiterin) bei Atelier Altenkirch.


Portfolio